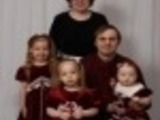 I was astounded that not one recipe for tartar sauce on 'zaar actually contained cream of tartar. This is a basic version; add anything you like in your tartar sauce to the base, such as lemon juice, capers, or dill. Tartar sauce is great with just about any fried fish dish.
Directions
Mix mayonnaise and pickle in small bowl.
Add cream of tartar.
Add sugar to taste.
Cover and refrigerate until served; keeps well in fridge.
Note: This tartar sauce changes color when allowed to sit or exposed to air; it is still safe to eat until it begins to turn rancid.