Easy Raspberry Cream Cheese Chiffon Pie
Rita1652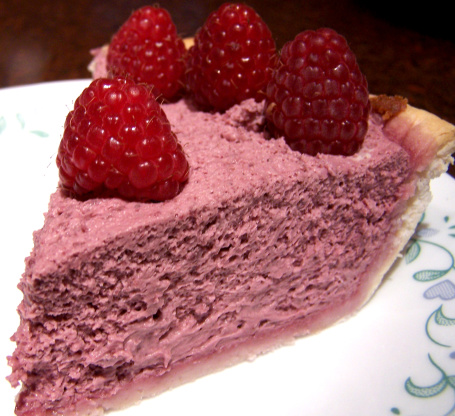 Light and Berry creamy! Cook time is chill time. This is a great filler for a trifle layering with chocolate or vanilla cake and a layer of whipped cream and or berries.

I am a very novice baker. This was my first attempt to do anything that didn't come straight out of a box... so when I say this was a breeze, you know it was. It was also absolutely delicious. We're not big almond fans, so I omitted the almond extract. I barely got more than a bite of this one. My only regret is not making two!
Preheat oven to 375.
Roll out pastry to 11" circle; line 9" pie plate.
Trim and flute edges; prick bottom and sides with fork.
Bake 15 minutes, until golden brown.
Cool completely on wire rack.
Beat cream in small bowl on High until stiff peaks form; set aside.
Combine cream cheese almond and vanilla in medium bowl; beat until light and fluffy.
Blend in fruit spread, scraping sides of bowl frequently.
Reserve 1/2 c of whipped cream for garnish; fold remaining whipped cream into cream cheese mixture until no white streaks remain.
Spread evenly into cooled pie crust.
Chill at least 2 hours to overnight.
Just before serving, spoon reserved whipped cream around edge of pie.
Garnish with raspberries.