aloha808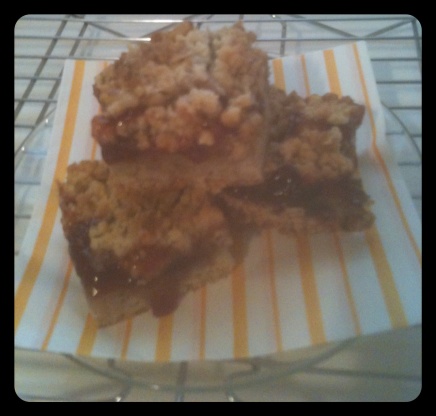 Quick and easy gourmet-tasting cookie bar!

Made these bars for my wedding cookie favor bags and they were great. You can cut them into hearts or circles using a biscuit cutter.
Set oven to 350°.
Combine Flour, Sugar, Walnuts, Butter and Egg in large bowl.
Beat on low speed for 2 minutes, or until mixture is crumbly.
Reserve 1-1/2 cups of Crumb Mixture for topping.
Press remaining crumb mixture in botom of 11" x 7" baking pan.
Stir Raspberry Preserves until smooth; spread over crumb crust, to within 1/2" of sides of pan.
Crumble the 1-1/2 cups of reserved mixture over the top.
Bake for 45 minutes, or until lightly browned.
Cool completely and cut into small bars.