Fatima--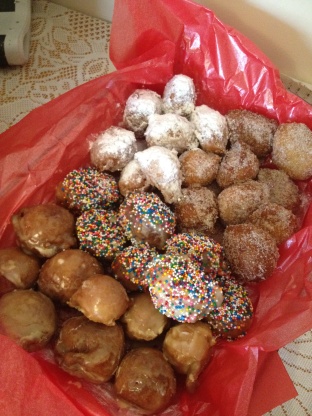 My husband can remember standing on a chair at the table to be tall enough to watch his Grandma make doughnuts. Unfortunately I can't find her recipe but this one is from a different German Grandma and sounds much easier than what he describes to me! From Good Ol Cotton Pickin Recipes, Burton Cotton Gin, Burton, TX

I created an account just to say how amazing these doughnuts are! My two-year old son asked for doughnuts for breakfast this morning. I was just going to make simple doughnuts from canned biscuits but we didn't have any canned biscuits. I found this recipe, and it's incredibly easy and oh-so delicious! The only change I made was substituting cinnamon for nutmeg because I'm not a fan of nutmeg and I didn't have any on hand. So yummy! A definite hit in my house for sure!
Mix flour, sugar, baking powder, salt and nutmeg until thoroughly blended.
Add oil, milk, egg and vanilla and mix well.
Heat oil to (?) degrees. Drop by spoon into hot oil.
Fry until light brown on both sides turning once.
Drain well on paper towels or brown paper bag.
Turn in or sprinkle with plain, powdered or cinnamon sugar while hot.