Easy Quick Mexican Stove Top Casserole
jtib124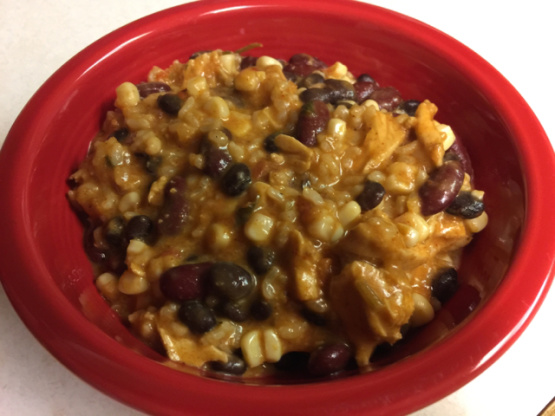 This always goes over well. Makes enough for a family of 5. Or lots of leftovers for a family of 2 which we are. The left overs are great too. Can be made as spicy or mild as you like depending on the spice of the taco seasoning and salsa. Most of these items I keep on hand so it's a great recipe to use when I don't know what to make.

I made it with chicken tenders which were very good--my question concerns the package of taco seasoning--the only ones I found were 1 oz or 1.25 oz packages--I used 3 of the 1.25 oz pkgs, but wondered if I should only have used one! It was very spicy--and didn't resemble the recipe's picture at all! Bobbi543
Combine the first 4 ingredients. If using chicken bring to a boil and then lower the temp, cover and simmer for 15 minutes. Bring back to a boil.
If using the hamburger, brown it first before adding the other 3 ingredients. Once added bring to a boil, no need to simmer.
From there the rest is the same for both versions.
Add the instant rice, black beans, and corn. Mix together well. If I have any on hand I also usually add green onions.
Adjust heat to low, cover with desired amount of shredded cheese. I use about 2 cups but that is a lot. We love cheese. I think originally it called for 1 cup.
Once cheese is added cover and let cook on low for 5-10 minutes or until the rice is done.
Serve and enjoy. This usually only takes about 30 minutes total. Quick and easy.