Easy Potato and Corn Chowder - Crock Pot
sydsmama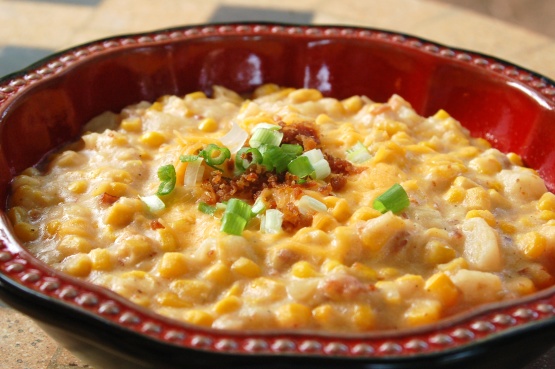 This is a chowder that uses ingredients that I almost always have on hand, so it is quick and easy to throw together before work, and come home to on a nice fall evening. Relatively easy to double as well for extra large families or get togethers.

Very good.

I used frozen shopeg and yellow corn vs the 1 can of regular corn, but did use the cream corn as well.

Added milk and half and half combo vs evaporated which I am not a fan of.Also added a bit of vegetable broth to thin the chowder out a bit.

More seasoning was needed for
me and I added quite a few scallions for color as well as for flavor.

I did garnish with bacon and grated white cheddar.

Thx for a nice easy recipe.
---------------------------------------
One quick note:

Made again for a friend ... the type of crock pot will matter. My older one took 6 hours, my new crock which I used the batch I just took to a friend cooks much hotter. 4 hrs was plenty, 6 would of been dried out.
Mix all ingredients together in crock pot and cook for 6-8 hours on low.
Serving Suggestion: Top bowls of chowder with a little extra crumbled bacon and a little shredded cheese. Yum!