Easy Poached Salmon With Dill
Derf2440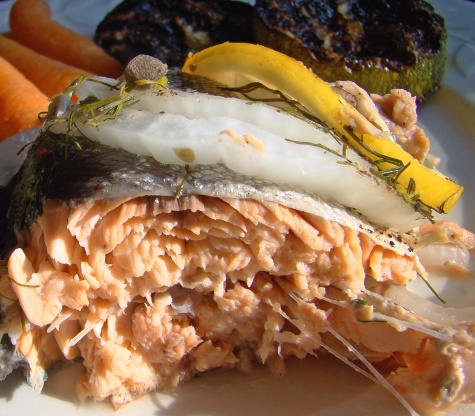 This is a simple recipe that tastes gourmet. Even your picky eaters will enjoy this one. Add more of the ingredients you love and omit any you don't enjoy or don't have on hand. This one is easy to prepare and hard to ruin. Great served with rice and veggies or salad **Extra fresh dill weed can be frozen in a plastic bag and keeps it's flavour beautifully.**

This was lovely! I had a fairly thick salmon steak, so I probably baked it closer to 25 minutes. It was delicious! I did not have capers so I left that out. I also used half wine, half water, and added some tarragon to the salmon as well. We have some leftovers so I can't wait to have it cold tomorrow! Thanks!
1

kg thawed salmon fillet, with skin on 1 side (may substitute with steelhead trout)
1 -1 1⁄2 tablespoon pickled capers (can be found in grocery store located in same aisle as pickles)

1

tablespoon chopped dill weed (use fresh or frozen but not dried)
1⁄4 cup thinly sliced onion

1

tablespoon lemon juice or 1⁄2 fresh lemon, peeled and sliced
salt and pepper
Pre-heat oven to 350 degrees fahrenheit.
Remove any visible bones and cut off the head and tail (if it hasn't already been done for you) If using a poacher place the tray in the poacher, add 1/4 cup water and place your salmon in the tray skin side down.
If you do not have a fish poacher (how many of us do?) you can use any oven safe pan large enough to hold your fish.
Just crumple and crinkle a medium sized sheet of tin foil and place your fish on the foil skin side down.
Add enough water to just come to the edge of the foil without spilling onto the fish (approx 1/3 cup).
On top of the fish sprinkle all ingredients.
Cover with lid or tin foil.
Cook for 12-20 min's.
For RARE fish, cook just until white liquid emerges from fish (this is the cooked fish oil).
It will be pinky white on the outside and peachy pink inside.
For more well done fish, cook until fish is a pinky white color all the way through.
Place on a platter to serve.
Leave onions, capers and dill on the fish.
Slice lemons on the side for those who like fresh lemon juice.
This salmon is great served with rice and steamed veggies or a salad.