cscomp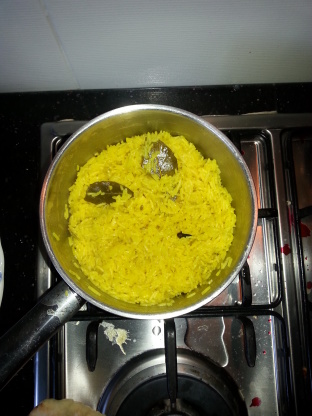 Mmm delicious yellow rice. Don't forget to pick out the cloves and cardamom pods as you eat! Serve with Low-Fat Chicken Curry (it won't be low fat any more if you serve it with this lovely buttery rice!)

Top Review by GloCo
Great recipe! The first time I have made pilau rice, and it was very quick and easy. I was cooking for 4 people, so doubled up the quantities, apart from the salt, and added some frozen peas with the spices. I cooked it in advance for just over 10 minutes, then finished off for a few minutes in the microwave when I was ready to serve. It was a great success and delicious, served with piri piri chicken, skinny fries and coleslaw salad. To fine tune our personal preferences, the next time I make it for 4 people I would use 1.5 oz of butter (unsalted) and just a little more salt.
Melt the butter in a saucepan.
Stir in the rice until it is coated in the butter.
Add the spices and salt.
Add the boiling water.
Cover with a tight fitting lid, and simmer on the lowest heat for 15 minutes--do not stir in the meantime.