Easy Phyllo Pastry Tarts with Hot Pepper Jelly
Leslie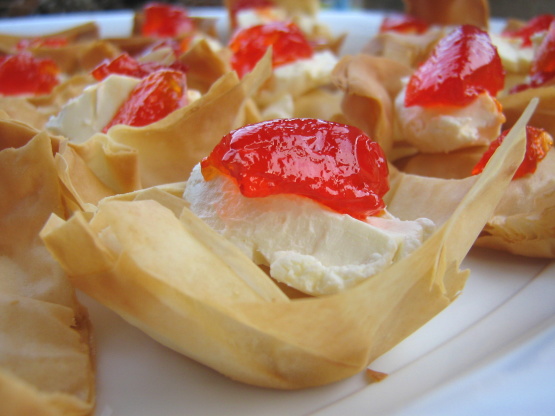 I made these for an appetizer evening and they were a big hit. The shells can be made ahead of time and frozen which is great for cutting your prep time on the big day. This looks especially festive at Christmas with green and red pepper jelly. If you make your own jelly, you can serve these at a Bridal shower in the bride's colors ;)

I make my own pepper jelly with bell, jalapeno, serrano, and habanero peppers, so it;s got a good kick. For the filling, I also use a mix of sour cream and cream cheese, and top with a cilantro leaf. YUM!
8

sheet frozen phyllo pastry sheets, thawed

44.37

ml butter, melted

250

g package cream cheese

1

jar hot pepper jelly (available at the deli or make your own with Hot Pepper Jelly recipe 58516 or Spicy Habenaro Jelly re)
Take 2 sheets of pastry and cover the rest with a damp cloth to keep from drying out.
Brush a thin layer of butter on one sheet and stack the other sheet on top.
Cut the stacked sheet in half.
(A pizza cutter works great for this) Brush one rectangle with butter and place the other one on top.
You will then have a 7 x 11 pastry sheet with four layers.
Cut that into 12 equal squares.
Press each square into a greased mini muffin tin.
Bake at 350 degrees until golden brown, about 10-15 minutes.
Repeat with remaining sheets, remembering to keep unused sheets covered.
Shells may be frozen at this point or filled and ready to serve.
To fill: Place 1/2- 1 teaspoon of cream cheese in the center of each tart.
Top with 1/2 to 1 tsp of jelly.
May be served as is or baked for 10 minutes and served warm.