Easy Phyllo Cups With Salad and Ham (Side or Snack)
Zurie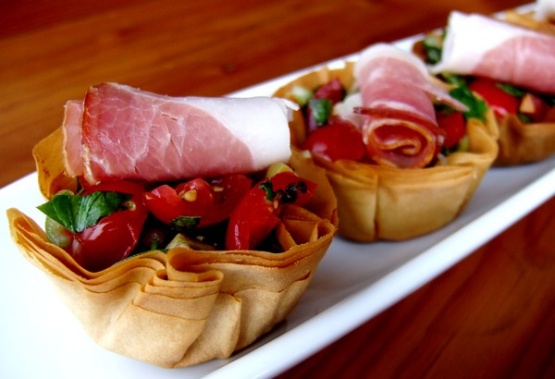 These are so easy, and can be made ahead. To make more, simply multiply the ingredients. Store the phyllo cups airtight to stay crisp. (Otherwise, refresh them in a warm oven). This is a great snack, and a good side or starter with grilled meats! Top with mozzarella or bacon instead of ham. Our phyllo sheets measure about 14 x 16 inches, which are enough for 9 muffin hollows. Four sheets will give you a nice firm cup shape. Dressing should be added, if at all, at the last moment to prevent sogginess.
1

ounce butter, melted

1

tablespoon oil

12

tomatoes, Rosa, small, cut up (the small plum tomatoes)

6

olives, pitted, finely chopped (green or black)

1

teaspoon garlic, finely chopped

9

leaves basil, large, finely sliced
1⁄4 cup spring onion, finely chopped

2

tablespoons parsley, finely chopped

1

pinch flaked sea salt

1 -2

tablespoon dried breadcrumbs (optional)

9

slices ham, Black Forest ham (or Parma ham, use thin air-dried ham or fried bacon or mozzarella cheese)

3

tablespoons vinaigrette dressing (homemade or shop-bought)
First, prepare and mix together the tomatoes, olives, garlic, basil, spring onions, parsley, and add salt and pepper sparingly. Mix well and cover the bowl.
Preheat oven to 350 deg F/180 deg Celsius.
Open out the 4 phyllo sheets (one on top of the other, as it comes).
Using a round utensil considerably larger than the muffin hollows, cut out circles right through the 4 thicknesses of the pastry. Brush each circle (4 per hollow) with the melted butter and oil, and press into 9 muffin hollows.
Sprinkle some dried breadcrumbs over the pastry cups, if you like.
Bake the phyllo cups for 5 - 7 minutes, or until golden brown. Cool before carefully removing.
(All this can be done ahead, but keep the salad chilled and the cups airtight).
To serve, fill the phyllo hollows with the salad. Top each with a rolled slice of ham (or bacon, or mozzarella).
Drizzle with a little vinaigrette at the last moment before serving (to prevent the phyllo pastry from getting soggy).