AmyMCGS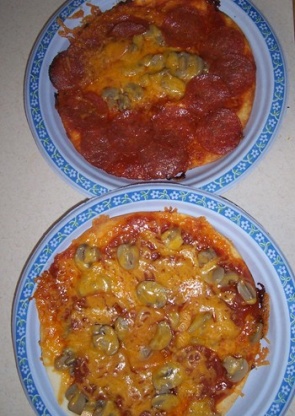 Homemade Pepperoni Pizza that's so easy and inexpensive, your kids can make it! It's an afterschool favorite in our home.

My 3 year-old DD and I just made these for lunch using cheddar cheese, pepperoni, and mushrooms. (See photo- can you guess who made which one? LOL!) I used olive oil spray for a little less mess and sprayed both sides of the tortillas to help them crisp up a little. They were messy, but quick and tasty... a good recipe for a young chef who likes to help in the kitchen. Thanks!
1

flour tortilla (one for each pizza)

1

teaspoon olive oil

2

tablespoons favorite jarred spaghetti sauce
shredded cheddar cheese or pizza cheese

8 -12

slices pepperoni

Options

sliced mushrooms
sliced fresh tomato
chopped baby spinach leaves
roasted chicken (or Check out the frig leftovers)
Real easy, just layout your tortilla on a flat baking sheet.
Brush one side with olive oil (kids can spread with finger).
Spoon out the spaghetti sauce.
top with pepperoni and shredded cheese.
Preheat oven and Bake 375 degrees, approx 5 minutes. Parental supervision is advised with young cooks.
The results should be a crispy, yummy, and healthy snack. Try it vegetarian! Enjoy!