Easy Pepperoni Grill Cheese Sandwiches
gailanng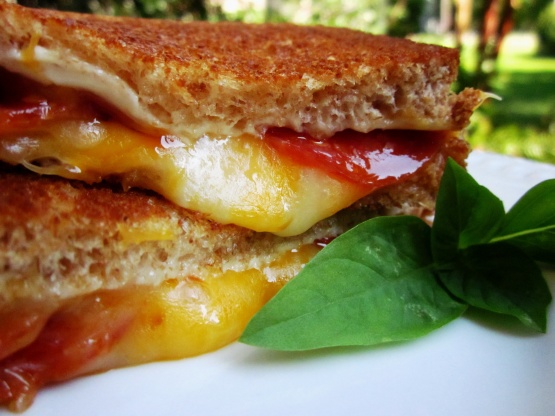 So easy, so tasty. I keep the inexpensive packages of pepperoni on hand just for dressing up a normal grill cheese. You can use any cheese you have on hand, but DH and I like colby and american. Sauerkraught can also be added if desired as well as other bread types.

Loved it! I also made a couple of subs; I used provolone in place of American and white bread, as it is what I had on hand...yum! I think next time I'll pre-cook the pepperoni in the microwave for a few seconds, to crisp it up a bit. Thanks so much for sharing, BakinBaby!
butter one side of multi grain bread.
place 1 slice american cheese,8 slices of pepperoni,and 1 slice american cheese on top of buttered bread.
Place bread, buttered side down on stove top grill or skillet.
Cover open faced sandwich with a skillet lid (this melts the cheese while the underside bread browns).
When bottom side of bread is browned nicely, top open faced sandwich with the other piece of bread that has been lightly spread with dijon. (if adding kraut, do so at this point).
Butter upper side of bread and turn to brown other side.
At this point the cheese should be almost melted, so very little time is needed except to make the other side nice and brown.