Easy Peasy Hummus With Flavor Variations
eabeler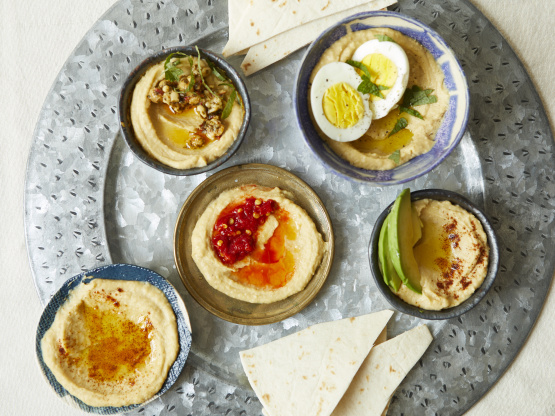 Much better than store bought! Once you try this you will never look back. Add more tahini to your liking, up to 1/4 cup. Flavor variations below.

For a less fattening version I have used less Tahini and I add spinach or peas. I also rub all of the skins off for better digestion
Drain chick peas, reserve 1/4 cup liquid.
Add all listed ingredients to a food processor or blender.
If using a food processor, pulse a few times then stream in reserved liquid to desired consistency. If using a blender add liquid to ingredients before blending.
Process until smooth, I like to run it 3-4 min for ultra smooth consistency.
Flavor as desired right in the blender! You can blend with pesto, roasted red peppers, chipotle tabasco or even avocado or guacamole. Drizzle with pine nuts, olive oil, parsley or cilantro for a beautiful mediterranean style presentation.