Easy-Peasy Chilled Asparagus
Debbwl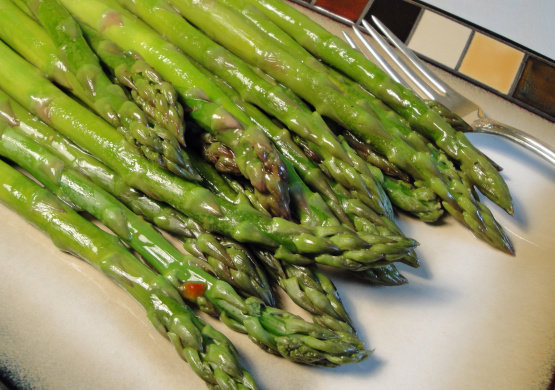 I make this for every special occasion.. very easy,can be made a day or two ahead. You can use any kind of bottled salad dressing,although Greek,Balsamic,and Honey Mustard work well.

Make-ahead vegetable recipes are so handy, and I've often wondered how to do that with asparagus. Thanks to Messy Kitchen Maid, I've found the answer! Per her suggestion, I used Greek dressing, and it is a very nice flavor combination. Lemon and parsley make an attractive presentation. Best of all, it's so easy. Nice to make as a quick meal for yourself (I like to snack on stuff like this) or bigger crowds.
Cut Asparagus approximately 3 inches off the ends.
Steam until cooked but still somewhat firm.
Drain water.
While still warm,drizzle bottle dressing over top.
Let it cool for a few minutes .
Slice lemon into thin slices.
Arrange Asparagus decoratively on platter with lemon slices and chopped parsley.
Cover with plastic wrap and chill for at least 2 hours.