Easy Peanut Butter Buttercream Frosting
Gorgesborges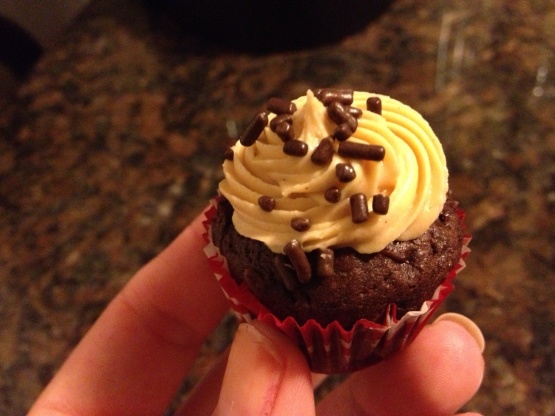 This delectable frosting can be made ahead and refrigerated; if refrigerated, however, it must stand at room temperature to soften before use. If using a hand-held mixer, increase mixing times significantly (at least 50 percent). This recipe can be doubled to make enough for a two-layer cake.

I tried this recipe based on the reviews, and I am soooo happy I did! Best pb butter cream i've ever had. my husband was speechless, which doesnt happen often! The recipe size is kind of small, just BARELY enough to cover and 8 inch round, so if you like a lot of icing, or if you plan on making a larger cake make sure you increase the recipe size. The mixing is the most important part, it produces a light fluffy icing. I didnt have any cream so I used 1tsp of milk and it still turned out amazing. I used it on a choc cake with chopped reeses pb cups in the middle and on the sides. So good you wanna slap yo mamma! :p
In standing mixer fitted with whisk attachment, beat butter and peanut butter at medium-high speed until smooth, about 20 seconds. Add confectioners' sugar and salt; beat at medium-low speed until most of the sugar is moistened, about 45 seconds. Scrape down bowl and beat at medium speed until mixture is fully combined, about 15 seconds; scrape bowl, add vanilla and heavy cream, and beat at medium speed until incorporated, about 10 seconds, then increase speed to medium-high and beat until light and fluffy, about 4 minutes, scraping down bowl once or twice.