loof751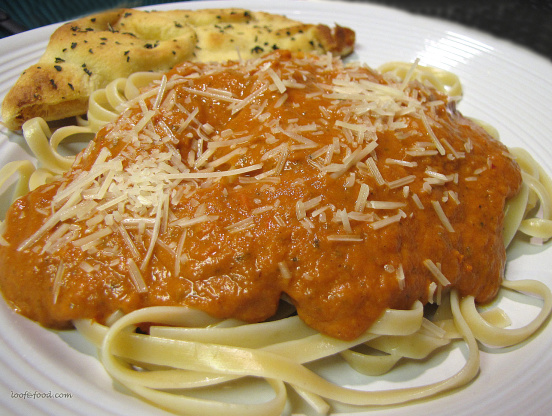 This is a recipe I thought of when I wanted pasta, but had no sauce on hand. I serve it with Spinach Fettucine pasta noodles. The sauce does not look like it will make lot, but trust me it is thick and rich and goes along way.

Just what I was looking for! My grape tomato's are ripening by the 100's and this is not only easy but SUPER great! I didn't use the mushrooms because, although I love them, my family doesn't. Still turned out great. I also only had raspberry vinagrette dressing (instead of golden Italian) and it is still perfect! I doubl!ed it and processed with my Ninja food processor. This is wonderful and a great way to make and freeze to preserve the summer bounty of tomato's! Thank you so much for sharing!
Saute mushrooms with little bit of the olive oil and a teaspoon each of the dressing, onion, garlic, and italian seasoning.
Blend mushrooms as well as oil into almost purree. (Yes, I know it looks disgusting trust me).
Microwavable safe bowl place two pints of tomatoes plus the rest of the onion, garlic and italian dressing and seasoning. Cover with paper towl and microwave between 2-4 minutes until most of the tomatoes have popped. Stir once during time frame.
Add the microwave mixture to blender. Puree.
Add tomato paste and sugar if necessary.
Drizzle remaining olive oil in as needed to thin sauce.