Parsley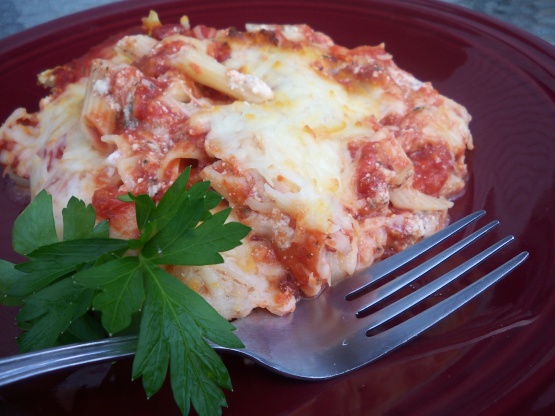 I obtained this recipe from a friend and modified it. It is very simple and so easy to make, and it is very delicious!

Top Review by April1
Very Good. Even better the second day. My hubby and I made this last night and enjoyed it a lot. The only thing we did different was added a pound of lean ground meat and of course used everything lowfat or fat free and it still turned out to be a great meal.
Preheat oven to 350°F.
Spray 9x13 inch baking pan with nonstick spray.
Cook rigatoni according to package directions, drain, and divide in half.
In large bowl, beat eggs and stir in ricotta and parmesan cheese, garlic, oregano, salt and pepper.
In large bowl, mix the two jars of pasta sauce with the can of diced tomatoes including juice.
Add 2 cups pasta sauce mix spreading to cover bottom of baking pan.
Add half of cooked noodles over sauce, and top with half of ricotta mixture, dropped by spoonfuls.
Add sour cream, dropped by spoonfuls.
Add 1 cup mozzarella, 2 cups pasta sauce mix, remaining rigatoni and ricotta mixture, and top with 1 cup mozzarella.
Add remaining pasta sauce mix and remaining mozzarella.
Bake covered with foil until bubbly, about 60 minutes.
Uncover and continue cooking about 5-10 minutes or until cheese is melted.
Let stand for 10 minutes before serving.