Easy Parmesan Garlic Chicken
Miss V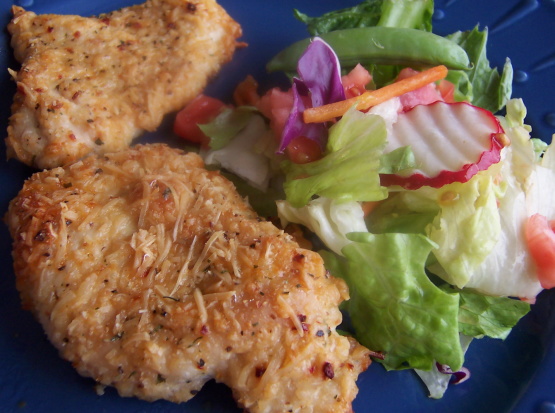 A friend at work gave me this recipe. She found it in Country Living Magazine and thought I would like it. She was right! I served this with buttered noodles and a simple salad. I hope you will enjoy it as much as we did!

I used good seasons seasoning mix and thought it was too salty. The salt was very overwhelming I am actually still tasting it hours later. Other then being way too salty the chicken came out nice and juicy. One of my daughters loved it and my four other children thought it was good. That is raving reviews from the kids so I will likely make it again for them, but the dish was not for me.
Preheat the oven to 400 degrees.
Combine the parmesan cheese, italian salad dressing mix and garlic powder.
Lightly moisten the chicken with water.
Coat the chicken with the cheese/dressing mixture.
Place the chicken in lightly greased baking dish.
Bake in the preheated oven for approximately 20-25 minutes or until the chicken is done.