Easy Parmesan Fish Fillets
teresas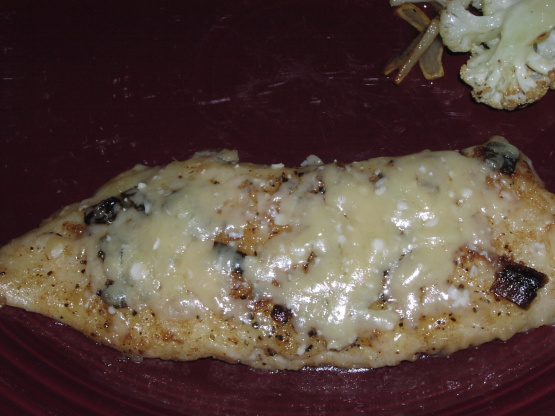 This is a delicious Betty Crocker recipe. You can use any mild flavor white fish. I used whatever we had in the freezer(from my husband's fishing trip). When I made it, I halved the recipe.

Top Review by ImPat
The DM and myself thoroughly enjoyed this tonight for dinner but due to necessity I had to make some changes; I don't have an oven proof frypan/skillet so heated a ceramic baking dish and once the fillets (fine baby snapper) were cooked (1 1/2 minutes first side and 1 minute on other side) I transferred the fish to the baking dish and then added the wine/lemon juice to the frypan and reduced slightly and then poured over the fish, added the parmesan and baked for 10 minutes. It was delicious. Though I would consider using ghee for cooking instead of butter (you don't get the milk solids burning then). Thank you Recipe Reader for a great fish recipe. Made for Recipe Swap #14 - March 2008.
Preheat oven to 375°F.
Coat fish with flour, set aside.
Melt margarine in large ovenproof skillet over medium heat.
Cook green onions in butter, stirring occasionally for 4 minutes.
Add fish and cook for 3 minutes, turn fillets and cook an additional 3 minutes.
Add wine and lemon juice to skillet and season fillets with salt and pepper.
Sprinkle fillets with parmesan cheese.
Bake 15 minutes, until hot and bubbly.