Easy Pantry Tomato Bisque
jenne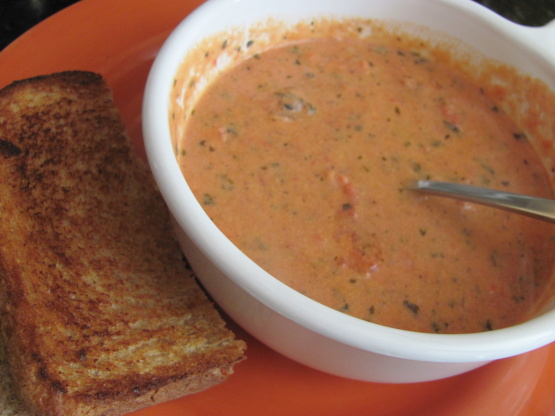 This is another soup that I came up with - it goes best with a grilled ham and cheese sandwich in my opinion! For the cream, I use either 18% or whipping cream - whichever I have on hand. I've used half and half, but it's not quite as good. Depending on the brand of tomatoes and juice, you may want to add a tbsp of sugar as some brands are a little bitter - I like it best with Unico brand or sealer ones I buy at the Farmer's Market. I've even made it just in an electric frying pan and it still turns out!
In a soup pot, saute onion in olive oil until translucent, then add basil and oregano, cooking until fragrant.
Add the canned tomatoes and tomato juice and then add the parley, pepper and salt, allowing to cook for a couple minutes.
Add the cream and heat for another minute, then puree - either with an immersion blender or by transfering in batches to a blender and then serve!