Easy Pan Pork Chops and Mushrooms With Gravy
Bergy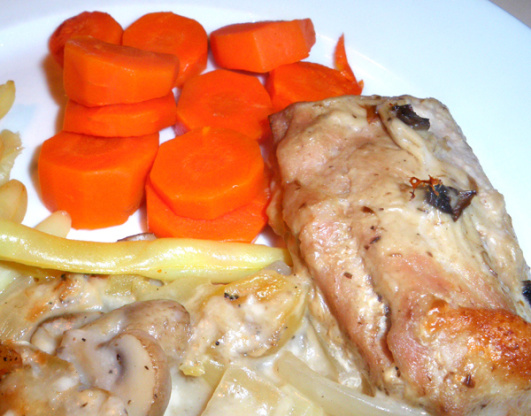 This is a simple easy recipe that is soooo good! Try to use thick-cut pork chops for this don't use fast-fry. Add in some cayenne for extra heat and increase the mushrooms if desired! If your in a hurry just place the chops in the baking dish and you can omit the pre-browning step, Grated old cheddar can be used in place of the Parmesan if desired. Prep time includes browning the chops firstly, cooking time will vary depending on the size of your pork chops.
Butter a 13 x 9-inch baking dish.
Season the pork chops with seasoned salt and black pepper.
Heat butter in a skillet over medium-high heat; add in the chops and brown well on both sides.
Place the chops in the prepared baking dish.
In a bowl mix together the undiluted soups with onion, garlic, mushrooms, Parmesan cheese, black pepper and cayenne to taste (if using) mix well to combine.
Pour the soup mixture over the chops in the baking dish.
Set oven to 350 degrees.
Cover with foil and bake for about 40 minutes, or until the chops are tender (cooking time will vary depending on the thicknes of your chops).