Easy Pan Fried Sole Fish With Lemon-Butter Sauce
Sean S.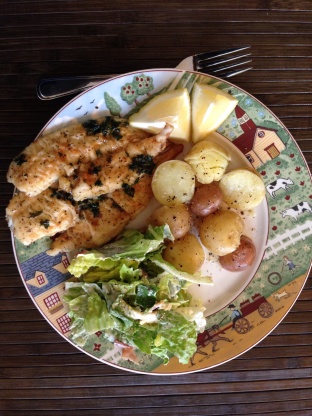 This is a pretty basic recipe but it is just delicious! You can use lemon pepper in place of black pepper.
Very good, easy and fast! I used rice flour to get an even brown without overcooking the fish and only a dash of salt. Excellent dinner! Thanks for sharing!
Mix the flour with seasoned salt and pepper in a shallow dish.
Dredge the fish fillets in the flour mixture.
Heat a large skillet over high heat.
Add in about 3 tablespoons butter to the hot skillet.
Saute the fillets in 2 batches, cooking on each side (on high heat about 2 minutes per side) or until just cooked through; transfer the fish to a plate to keep warm.
Add in the remaining 4 tablespoons butter and cook until golden in colour; add in lemon juice, bring to a boil and add in the parsley.
Season the sauce with salt and pepper.
Pour the warm sauce over the fish.
Serve immediately.