Easy Overnight Caramel Rolls
Grease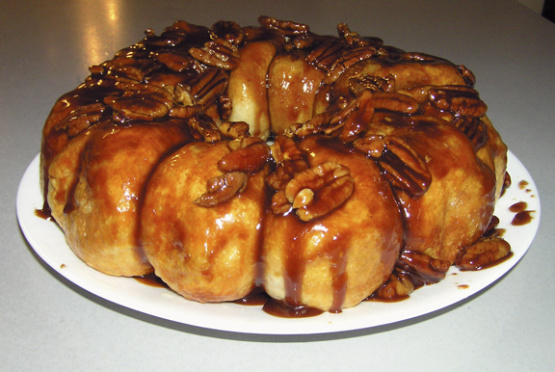 Found this recipe in a local cookbook and thought I better post it here for safe keeping. Looks interesting.

I make these rolls with the exception, that I melt the butter and brown sugar together and then drizzle over the pudding and rolls. Cover with plastic wrap. Set in warm place overnight (oven with the oven light on). <br/>For easy clean up, line the pan with tinfoil and then after turning out, the pan is pretty clean!
Spray a bundt pan or an angel food cake pan with nonstick cooking spray.
Place the rolls in the pan, sprinkle the whole package of butterscotch pudding mix over the rolls, sprinkle the brown sugar over the pudding mix, pour the butter over the brown sugar, and top with the pecans.
Cover and place in the refrigerator overnight, or let rise for 4-5 hours before baking.
Preheat oven to 350*. Bake the rolls for 20-25 minutes. Let cool.