Redsie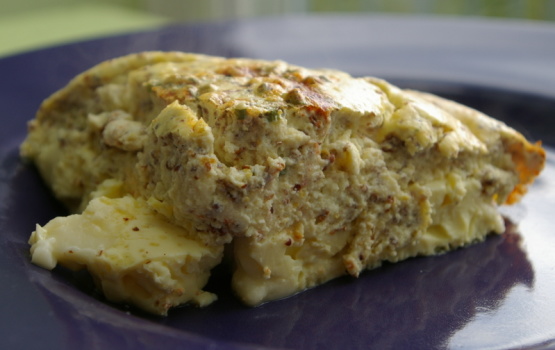 Easy to make for those of us who can't seem to make a neat omelette in a skillet.

Easy to make, makes it easy to prepare other brunch recipes and is tasty when finished. I didn't expect it to be quite as fluffy as it was, and it definitely could benefit from some ham and sauteed green peppers, at least that's the way we would like it. It's a good base recipe and I'm sure I'll be making it again. Thanks for posting! Made for the I Recommend Tag game.
Preheat oven to 325 degrees.
Brush the 1 tbsp melted butter into a square baking dish (8x8 or 9x9).
Beat the eggs, sour cream, milk and mustard together until well blended.
Stir in the scallions, swiss cheese, salt and paprika.
Pour into the buttered baking dish.
Bake at 325 for about 30-35 minutes or until eggs are set but still moist.