Easy Oven Omelet With Cheese
Prep 10 mins
Cook 40 mins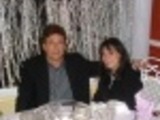 This couldn't be easier to make so it's great for a brunch. I have also halved the recipe for just my husband and me. I have even served the squares between toast as sandwiches.
Directions
Preheat oven to 325 degrees Fahrenheit.
Spray an 11-1/2 x 7-1/2 x 1-1/2-inch baking dish with cooking spray.
If halving recipe, use an 8x8x2-inch pan.
Beat eggs. Add milk,seasoned salt, and instant minced onion; mix well.
Stir in shredded cheese.
Pour into baking dish.
Bake, uncovered, until eggs are set and top is golden brown, about 40 to 45 minutes.
Cut into squares and serve.
Most Helpful
This was easy to and made a yummy dinner. I halved the recipe and added some parsley from the garden. It rose up puffy and golden. Made for Everyday is a Holiday.
Nice Oven Omelet. It is so quick and easy to fix. Thanks for posting.
I woke this morning around 5 a.m. (couldn't sleep). I whipped a 1/2 batch of this together and used an 8x8 Pyrex baking dish. Hubby wasn't awake, so I placed it into the fridge and went back to bed. I finally drug myself out of bed around 8 a.m. and gave it a quick mix and popped it in the oven. It was done in approx 38 minutes (I guess because it was a smaller dish). What a lovely and easy breakfast dish to make. I'd bet that you could actually whip this up the night before, then mix well the next morning to have readily available. Thanks for sharing this recipe. (Made for your win in Week 6 Football tag)