Easy Oven-Fried Chicken Breasts
lazyme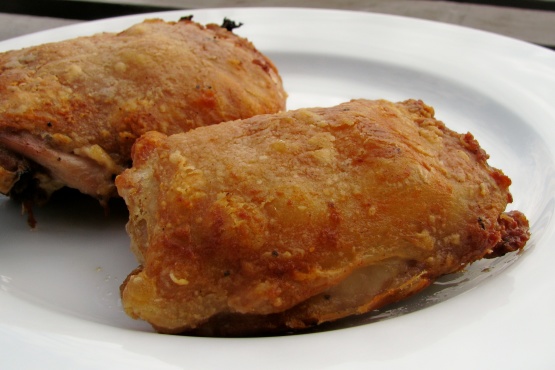 I'm too lazy to fry chicken the traditional way. I've experimented with chili powder, Greek seasoning etc. in place of the paprika or poultry seasoning. Try what you like.

Great fried chicken recipe and I love that it calls for bone-in chicken. The skin came out crispy and the chicken moist and tender. I used a metal pan and lined it with double duty aluminum foil and the clean up was a snap compared to frying chicken on the stove top. This is a real keeper in my book, thanks for sharing.
Heat oven to 425 degrees.
Melt Crisco in a 13" x 9" baking pan.
Combine flour, paprika, salt and pepper in a bag.
Shake chicken pieces, one at a time, in bag to coat with flour mixture.
Place chicken skin side down in baking pan.
Bake, uncovered, 30 minutes.
Turn chicken.
Bake 30 minutes longer.