teresas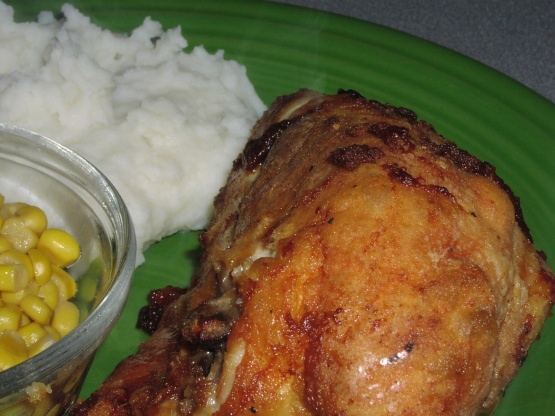 Easy, yet tasty chicken. Found in the Betty Crocker cookbook.

Excellent fried chicken. DH said I could make this anytime. He really only likes chicken deep fried and this is so much easier. I used butter flavored Crisco and smokey paprika. The meat really does stay moist and the skin crisps up beautifully. Thanks for posting. :)
Preheat oven to 425 degrees F.
Mix flour, salt, paprika, and pepper in a shallow bowl.
Rinse off chicken pieces and coat in four mixture.
Heat butter and shortening in a 13X9X2-inch baking dish at 425 degrees F until melted.
Place coated chicken pieces (skin side down) in dish.
Cook uncovered for 30 minutes.
Turn chicken; cook uncovered about 30 minutes longer.