Annacia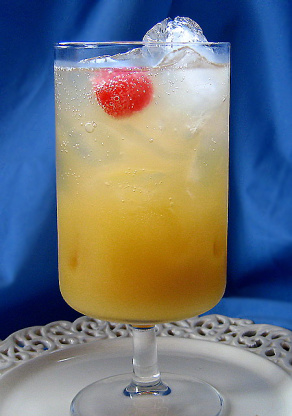 This is from the Florida Department of Citrus. The time alloted for cooking is actually time for ice-cubes to freeze.

Well you sure can't get any easier. I made a single serving and just made it right in the glass. It's the perfect sweetness with the soda and is ideal on a summer afternoon. Sorry Cookie, I didn't have any fresh mint and I'm currently buying ice from the store so I just added a cherry to the glass. It might not be as pretty but it sure was good and quite refreshing.
1

(6 ounce) can frozen orange juice concentrate, thawed
club soda or tonic water, chilled
Thoroughly drain maraschino cherries. Arrange mint leaves and cherries in compartments of ice cube trays; fill with water and freeze until firm to form decorative ice cubes.
Prepare orange juice concentrate according to label directions, except substitute club soda or tonic water for the water.
Pour into glasses over decorative ice cubes. Serve at once.