jrusk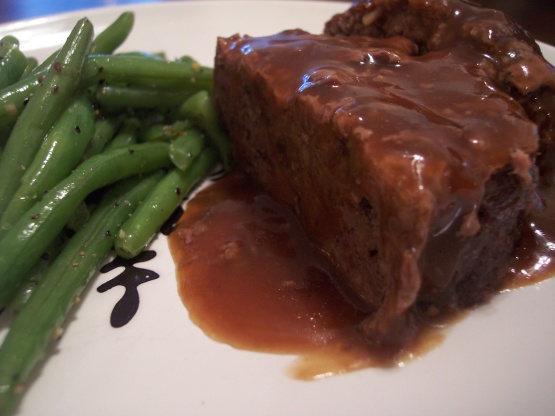 I believe you are a meatloaf person or you aren't; simple. I also believe the best meatloaf is the one you grew up on; others just seem to taste not quite right. I haven't found the one my family eats on here. After trying several others, I keep coming back to my Mom's. It's not necessarily better but it's the one I grew up on and that makes all the difference in the world. Meat, onions, gravy and a big pile of ketchup on the side for dipping, yum.

Very easy to make tasty meat loaf. I used recipe #110331 for the soup mix, and used about 1/3 cup evaporated milk that I wanted to use up. I couldn't find the jar of Heinz beef gravy so I used two 10 ounce cans of Heinz beef gravy and saved some to put over french fries tomorrow.
2

lbs ground beef

1

(1 1/4 ounce) envelope Lipton Onion Soup Mix

1

egg

1

(6 ounce) can evaporated milk

1

(18 ounce) jar beef gravy, Heinz Savory Beef Gravy
Preheat oven to 350 degrees Fahrenheit.
Mix ground beef, onion soup mix, egg, and evaporated milk together. The texture should be very mushy with a lot of moisture. (6 oz. evaporated milk is usually enough but you could use a 12 oz. can, adding as you mix and save the leftover evaporated milk).
Form meat mixure into a loaf and place in a baking pan.
Bake until meat is done, about 45 minutes.
Drain off some of the excess juice/grease.
Top meatloaf with the jar of gravy; put pan back in oven to heat gravy through, about 5 minutes.