Easy One Pot Lentils and Rice
Leni D.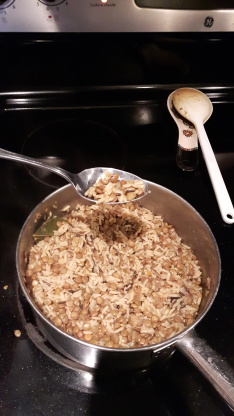 I made this for dinner tonight, and the whole family loved it. I make lentils and rice quite often in a million and one different ways, and never with a recipe, but decided to post this one for safe keeping so that I can make it this way again. I served this as a rice ring (with easy glazed carrots and raisins in the middle). I had no onions on hand, but this would be excellent with carmelized onions on top. You may need to use a little more or less water depending on the age of your lentils. I used 6 1/2 cups, and it was perfect. I hope you enjoy this as much as we did!
Adde an extra half tablespoon of curry powder and was awesome! Absolutely making this again!
Cover the lentils with the water.
Peel and crush the garlic cloves lightly with the back of a knife. Leave the cloves whole, so that they flavor the dish but can be removed if desired. (I leave them out of the kids' portions, and give them to my DH and myself).
Add garlic to the pot, along with the bay leaves, cumin seeds and cinnamon. (DO NOT add salt at this point, as lentils will not cook properly).
Bring to a boil. Cook at a boil until the lentils are just tender. This should take about 25 minutes, but may take longer dependig on the age of your lentils.
Add the rice, salt and olive oil, and bring back to a boil.
Stir, cover pot, reduce heat to low, and cook for 15 minutes.
Check to make sure the rice is done, adjust seasonings, and serve. If there is still too much liquid in the pan, just let it sit uncovered for a few minutes.
Enjoy!