Easy One Pot K-D Taco Supper
This is from Company's Coming and it got me through a lot of nights in college... Actually me, my roommates, and my friends. I still love it!
Directions
Scramble fry ground beef, onion, and green pepper in a large non-stick frying pan with fairly high sides for about 5 minutes (until onion is soft and beef is no longer pink) and drain.
Stir in hot water and taco seasoning mix.
Bring to a boil and stir in the macaroni ONLY from the KD package. Cover, simmer, stirring occasionally until macaroni is tender.
Add the cheese packet and the tomato and stir together well.
Serve immediately with sour cream, green onion, and lettuce!
Reviews
Most Helpful
Easy to throw together with minimal mess! Fed my husband and myself, and our 9, 7 and 2 year old with plenty leftover for lunch the next day. Our two year old even went for thirds, so this is definitely a keeper! All I had for the mac & cheese was a box of something generic. Next time I'll make sure to have actual Kraft on hand, because I really think it would have made it that much tastier!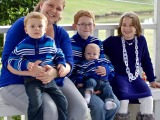 This made for a quick easy weeknight dinner. I followed the recipe as written and everyone enjoyed it.

Made this for PAC Fall 2012, my better half gave it a 5 but I think it is a 4. Easy fast week night one pot dish.