Easy One-Bowl Low-Fat Breakfast Cookies
EppiRN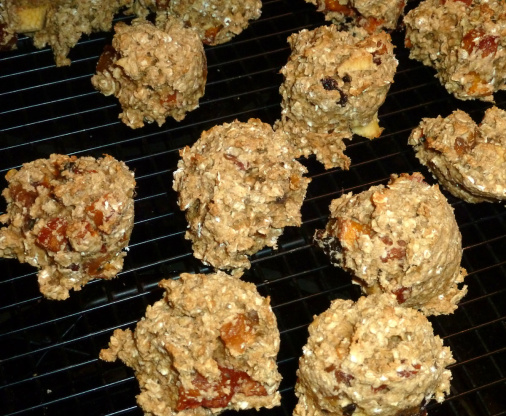 These are good for you and they seem to stick with you. I like to use craisins and dried apples. This came from lowfatcooking.about.com credited to Fiona Haynes

Wowee, these ARE yummy! I did drop the sugar a smidge, down to about 1/3 c for a full batch. I used 1/2 c dried apricots and 1/4 c shredded unsweetened coconut for the dried fruit, and added a hearty shake of cinnamon to the batter. I don't know what inspired it, but believe it or not it all made for a great combination. I made half a batch (silly me) and got 17 cookies when dropping by rounded tablespoons. I am so excited to serve these to DS tomorrow for a special breakfast! He needn't know that mommy sampled LOL. Made for Veg*n Swap 19.
Preheat oven to 350 degrees.
In a large bowl, combine flour, oats, baking powder, baking soda, salt and sugar.
Add egg whites, applesauce and vanilla. Mix well with a wooden spoon.
Fold in dried fruit.
Drop by tablespoon full on to baking sheet lined with parchment or silicone mat.
Bake for 12 minutes or until lightly golden.