Easy Olive and Mushroom Pasta Saute
Redsie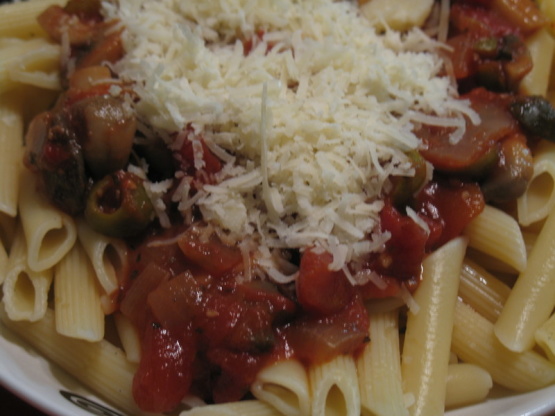 Olive-lovers this is one you should not pass up! This is easy and quick to make with so much flavor, and can be on the table in an hour or even less. If you are in a hurry, just cook for 25 minutes, or even simmer for a longer time, this is even better if made a day ahead to allow flavors to blend. Prep time includes boiling the pasta.

I don't often enjoy meatless pasta dishes but this one had a lovely blend of flavours! Out of personal preference, I used fresh tomatoes and fresh mushroms. thanks for sharing!
Heat oil in a Dutch oven over medium-high heat.
Add in chopped onion, garlic, oregano and crushed red pepper flakes; saute for about 5-6 minutes.
Add in tomatoes with juice and drained mushrooms along with black and green olives; simmer on low heat for about 25-30 minutes, or until mixture starts to thicken.
Add in cooked pasta shells and 3/4 - 1 cup grated Parmesan cheese; toss to combine.
Serve with more Parmesan cheese.