Easy No-Boil Macaroni & Cheese
TmOlive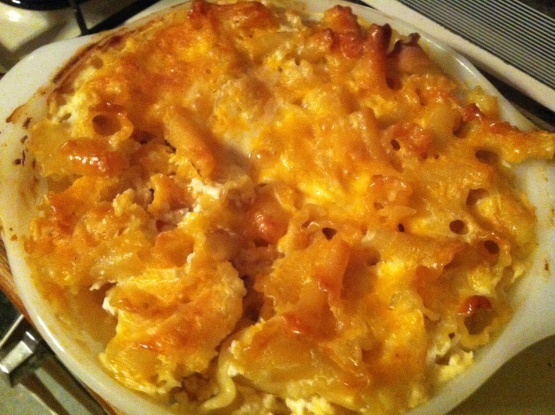 I found this recipe in a doctor's office. It is great for a week night meal as you don't need to boil the pasta first; instead, you just basically toss the ingredients together and then bake in the oven. I really enjoyed the dish when it came out of the oven, but I was less enthusiastic about the leftovers (yet I hate leftovers anyway.)

I'm a foodie, so why on Earth would I give 4 stars to this recipe. Well, because it's saved my butt about 3 times when I was too tired to make anything for dinner. It's not creamy, but it's a good basic recipe and dirties only a few dishes. <br/>Add cooked chicken, ham, broccoli, burger, whatever and you've got hot dish (yep, I'm a Midwesterner. Please don't call it casserole.) If you're as tired as I've been when I've made this, it's a great stand alone mac and cheese. Serve with a bag of salad, fresh fruit, and bam, there's dinner.
Preheat oven to 350 degrees.
Place butter in a 9x13" dish. Place in hot oven until butter melts.
Remove; tilt to swirl butter and coat bottom and slightly up sides.
Add dry macaroni and stir to coat. Sprinkle with cheese and stir to mix.
Pour milk over evenly. DO NOT STIR!
Bake uncovered for 1 hour.