Easy Never-Fail Breaded Chicken
Skaren52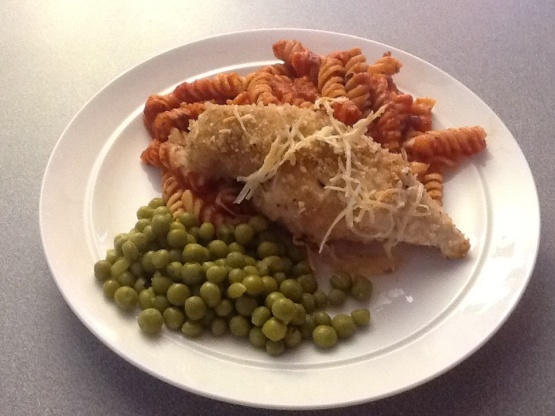 This is the most simple chicken recipe I've ever made. My mom came up with it and I tweaked it a tiny bit and we eat it at least 3 times a month. I honestly don't see how anyone could dislike this chicken. I recommend serving it with homemade mashed potatoes!

We had this for dinner tonight. Very easy and very fast to make. However, I thought it needed a little something more. Maybe if I had a dipping sauce or something? It was moist and DS liked it, that's why I gave it 3 stars, but I don't think I'll be making it again.
3 -4

chicken breasts, cut into approx. 2-inch strips

6

tablespoons butter, melted (not margarine)

1

cup progresso brand Italian seasoned breadcrumbs
1⁄4 cup shredded parmesan cheese (NOT the stuff in a can!)
Preheat oven to 375 degrees.
Melt 2 T butter and pour into shallow baking dish.
Melt remaining 4 T butter in small bowl.
Dip chicken in butter (in bowl, not baking dish) and then dredge in bread crumbs.
Place coated chicken into baking dish.
Sprinkle cheese on top of chicken.
Cooking times vary according to the thickness of the chicken and your individual oven, so start checking for doneness after about 25 minutes. It takes about 35-40 in my oven.
Chicken is done when juices run clear and you can easily cut it with a fork.