Easy Mushroom Veggie Burgers
jenne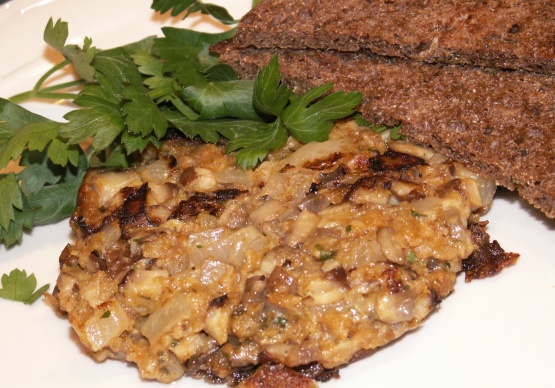 This healthy recipe is based on one from allrecipes.com.

I had some challenges with the mix. Following the directions, my mix was very runny. I kept adding fresh cubed bread pieces (sourdough bread) until the mixture looked like it would be easily handled. It took 5 (yes, 5!) pieces of bread! I added an extra egg because I was worried about the mixture falling apart while cooking. When handling the mix, it still wouldn't stay together, so I ended up adding dry bread crumbs. Fortunately, the mix held together, remained moist, and the patties tasted yummy! I'd make this again, with adjustments. Thanks for posting.
1

lb fresh mushrooms, about 6 cups chopped finely

1

large onion, minced

2

slices white bread, finely diced

2

tablespoons steak sauce

2

egg whites or 1 egg
Coat a large skillet with cooking spray, and place over medium heat. Add mushrooms and onions; cook and stir for about 4 minutes, just until mushrooms begin to give up their juices. Stir in bread cubes and steak sauce; cook and stir 1 minute. Remove mixture from pan, and set mixture aside to cool. Wipe pan clean.
Beat egg, and mix into mushroom mixture. Season to taste with salt and pepper.
Coat skillet with cooking spray, and place over medium heat. Form 6 patties by hand and place into skillet. Brown one side, flip over, and brown other side. Serve.