Easy Morning French Toast Bake
Sara 76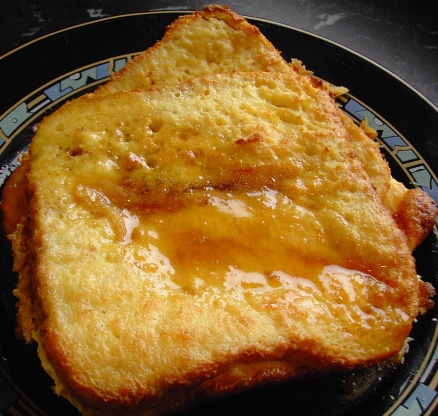 This is an easy breakfast casserole that my veggie daughter and very picky son will all eat! It is a very forgiving recipe and you can add anything you want.

This is THE best French Toast we have ever had. I ade it because I had 2 extra kids here for a sleepover, and all 4 kids loved it as much as my hubby & I did! I didn't add the zest, because I thought it might put the 2 smaller kids off, but apart from that, I made it as written. Fantastic recipe, and is perfect for a special breakfast when you have a lot of people to feed. I loved that all the work was done the night before! Will make this regularly! [Made for Fall 2008 PAC]
Preheat oven to 400.
Slice the challah bread very thickly.
Let dry out for 2 hours.
Mix eggs, cream, oj and zest very well.
dip both sides of slice of bread in egg mix- get them very wet.
layer the bread in pan slightly overlapping.
pour the rest of the egg mixture over the bread.
cover with foil - let sit at least 1 hour - can sit overnight.
Bake 45 minutes to 1 hour - depending on how crispy you want the top.
For the sauce.
in sauce pan melt butter add syrup cook until it reaches a low simmer - pour over the french toast.