Easy Mocha Fruitcake (Christmas)
Ninna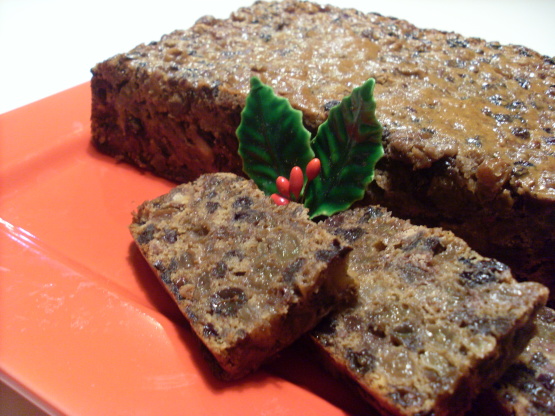 You aren't meant to taste coffee in this cake but you do get a taste of the chocolate now and then, which I love - I guess I just don't chop it finely enough. I found this recipe in an Australian Weight Watcher's cookbook and added the alcohol for flavour. Although I use Cadbury, any block of chocolate from a confectionary store would do. I am guessing at the servings as it is meant to be eaten in small slices being a Weight Watcher's recipe. The prep. time doesn't include soaking dried fruit overnight.

this is so easy and delicious. I use a block of Cadbury Old Jamaica Rum 'N' Raisin 250g for the chocolate instead of adding alcohol, and a packet of mixed fruit. If it is a little dry after soaking overnight, add some orange juice when adding the flour etc.
2

cups self raising flour

150

g chocolate with fruit and nuts, I use a block of Cadbury

1

kg dried fruit (raisins, sultanas and currants)

2

cups strong coffee
rum, to taste, brandy can be used instead
Chop raisins if they are large in half then soak fruit overnight in coffee and rum (or brandy).
Preheat oven to 180 deg C (350 deg F) and coat a 20cm x 28cm (8" x 12")tin with cooking spray, then line base with baking paper.
Chop chocolate into pieces, then mix together with dried fruit mixture and flour.
Spoon into prepared tin and bake 2hrs or until cooked through.
Put some baking paper on top of cake to prevent burning.