Parsley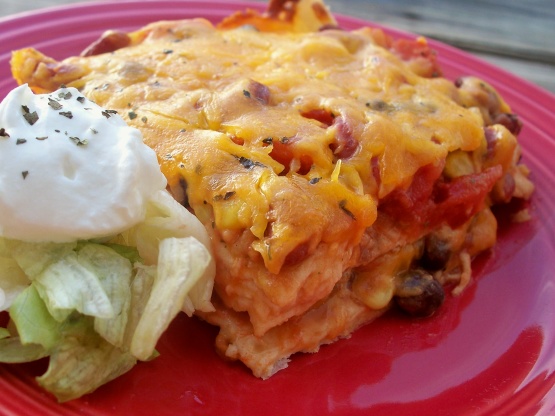 This is a super-easy low fat vegetarian dish that takes only minutes to throw together, it makes a great light weeknight meal served with a small side salad, you can use stewed tomatoes in place diced and use black beans in place of kidney beans. Top this with low-fat sour cream and salsa.
I truly admire people that can create recipes like this one. I went in a few weeks ago and thought I could maybe find a few recipes to help me on my low fat journey. Through these lower fat and low fat recipes such as this one, I have lost 17 pounds in about 6 weeks. My hat is off to you Kitten, and I commend you for helping to make my journey, and I'm certain many other's, a shorter journey. This is a fantastic, flavorful recipe that will remain in my often made book. Thanks for this recipe!
Set oven to 400 degrees.
Combine first 7 ingredients in a mixing bowl and mix thoroughly.
Grease a 2-quart casserole and layer as follows, 4 tortillas (overlapping each other to cover the bottom of the dish, then half of the bean mixture, then half of the cheese.
Repeat the layers.
Bake for 12-15 minutes or until the cheese melts (do not over bake or the tortillas will become too soft).
Top with low-fat sour cream and salsa.