Boomette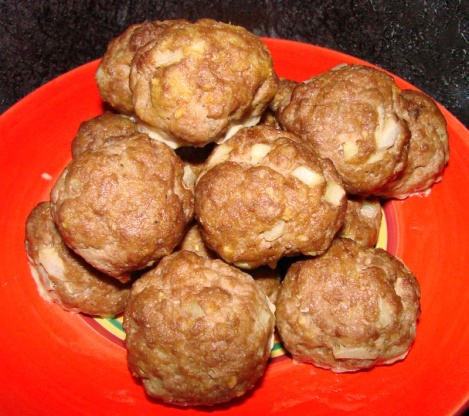 An easy but good recipe for meatballs. I triple the recipe and freeze the meatballs.

I made these with turkey meat and added chopped garlic and parsley. I also left out the water. I enjoyed the simple flavor and find these meatballs to be very moist. Also, I used my toaster oven to cook them and found about 35 minutes to be a good cook time. I got 11 meatballs out of this recipe, and they were on the larger side. I think these would be a good candidate for sweet and sour meatballs one night.
Preheat oven to 350 degrees.
In large bowl combine egg, water, bread crumbs, onion, salt and pepper and combine. Add ground beef, broken into chunks, and mush with your hands to combine.
Form into meatballs about 1" in diameter and place on a broiler pan.
Bake at 350 degrees for 25-30 minutes until meatballs are no longer pink in center.
Cool and use or freeze.