PaulaG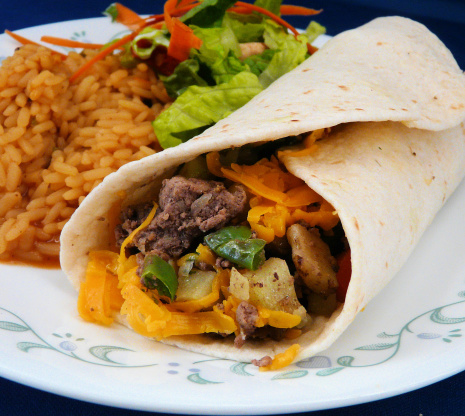 This is my daughter-in-law's crowd pleasing meat burrito recipe. This is so easy to make and serve when you have had a long hard day and still want a hot meal. Even my grand daughter likes this because she can put her favorite toppings on it.
Top Review by PaulaG
These are very similar to burritos and tacos that I have made for years. I really enjoy the fact that there are so many options available with the toppings. This recipe was reduced to 2 servings and not having canned potatoes, I diced and cooked a small potato in water before adding to the pan with the meat. These were topped with shredded cheddar cheese and homemade salsa.
Brown ground beef in a large skillet over medium heat breaking it into small pieces.
Drain potatoes and add to the ground beef and mix well.
Add the diced green chilies to the meat mixture and mix well.
Add spices to taste and continue to cook until meat is done.
Heat flour tortillas by placing them in the microwave for a few seconds until soft. Hint: to keep your tortillas from drying out, place a damp paper towel over the tortillas while heating in the microwave.
Place a portion of the meat mixture on a warm tortilla and add your favorite toppings. Roll up in a burrito style or fold like a soft taco and enjoy.