Easy Low Fat Oven Roasted Peppered Potato Wedges
JustJanS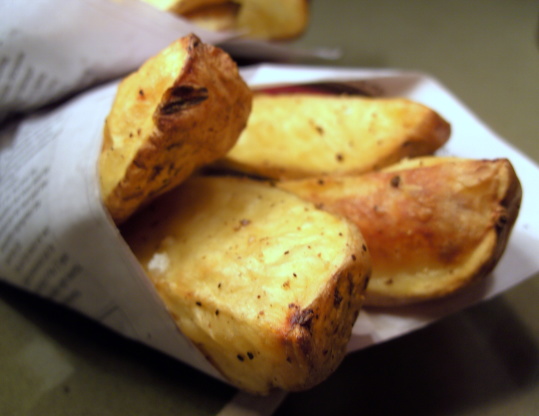 This is my Dad's recipe!!! Brilliant low fat & EASY roasted potato wedges with freshly ground black pepper and olive oil. I have also added garlic, lemon wedges, fresh thyme, fresh rosemary, cumin, chilli.......the list is endless! I have posted the basic recipe and it is obviously easy to add whatever you like, depending on the mood, season & type of meal you are serving. For example, rosemary is great with lamb dishes; thyme and oregano marries wonderfully with Italian & French cuisine; garlic and lemons are GREAT with roast chicken. The basic peppered recipe is still my favourite though - I use fleur de sel (local sea salt) in mine - but any coarse salt will be fine. I have given measurements for about 4 people......it is easily adapted up or down however!

This recipe really doesn't need another five star rating, but it certainly deserves one.
A super easy recipe that results in beautifully crispy wedges that really do lend themselves wonderfully to a dazzling array of flavourings!!
Thanks so much FT...made for Aus/NZ Recipe Swap #42
Pre-heat oven to 220 C or 450°F.
Wash and scrub your potatoes well - no need to peel them!
Cut them into chunky wedges.
Place in a ziplock bag or plastic container and add the olive oil & black pepper.
Do NOT add the salt now as it encourages water!
Shake the container or bag well - making sure every potato wedge has been covered in oil.
Place peppered potatoes in a large and sturdy oven proof roasting tin - shake around to ensure they are in a single layer, more or less!
Sprinkle on the sea salt and any herbs & spices you may be using.
Give another good twist of ground black pepper over the potato wedges and roast in the oven for about 45 - 60 minutes or until crispy and brown!
Sprinkle over any fresh herbs, if you are using them for a garnish or just serve "au natural" as a vegetable accompaniment.
I often serve these in paper cornets for a light lunch or supper time snack with vinegar & sometimes, very naughty I KNOW, mayonnaise!