Easy Low Fat After Thanksgiving Turkey Barley Soup
nancypj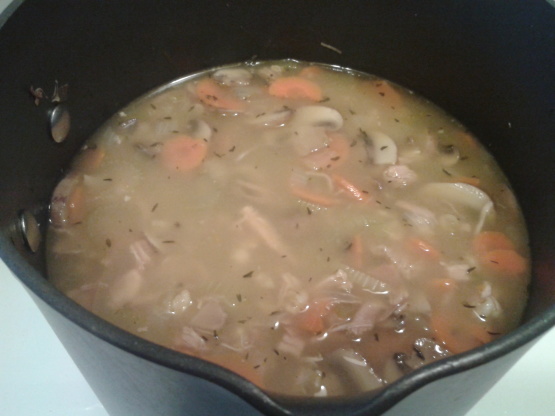 Simple, delicious and healthy soup! This is a wonderful use for leftover Thanksgiving turkey, or can be made with chicken breasts. Serve piping hot with freshly baked bread, rolls, or pumpkin muffins. Enjoy!

Easy and delicious! I added 1 tsp garlic powder and also subbed white pepper for the black pepper. It was great! This was a great recipe for the leftover turkey from Thanksgiving. Will definitely use again!
Combine the broth or water and the barley in a 3-quart pot, and bring to a boil over high heat. Reduce the heat to low, cover, and simmer for 40 minutes, or until the barley is almost tender.
Add the mushrooms, carrots, celery, onion, bouillon granules, thyme, pepper and turkey to the pot. Cover and simmer for 20 minutes, or until the barley and vegetables are tender.
Ladle the soup into individual serving bowls, and serve hot garnished with fresh snipped parsley.