3 Reviews
Plenty of sauce, plenty of clams and plenty of flavor! I made it exactly as written and I doubled the recipe. You could easily serve this to guests. Thanx for a great recipe. I'll be making this again for sure.

We enjoyed this quick and easy meal! Thanks for posting.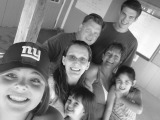 This was just the best ever. It was the perfect blend of flavors and lots of clams. The test to anything I make is wether my husband asks me to make it again and after his second bite he told me I could put this on his make again list real soon. Thanks for a make again meal for my oh so picky husband.
Easy Linguine and Clam Sauce