Easy Linguine and Clam Sauce
Prep 10 mins
Cook 20 mins

This is an easy and quick recipe for rushed nights. It has a nice flavor to it and served with a salad it makes a perfect weeknight meal.
Directions
20oz canned clams is equal to 2-10oz cans of chopped clams with juice.
Cook linguine as instructed. Drain.
Meanwhile melt butter in skillet. Add garlic, shallot and red pepper flakes. Sautee for 4 minutes until vegetables are cooked.
Add flour, oregano and parsley to mixture and stir until incorporated. Keep stirring for at least 1 minute.
Add clams with juice and wine. Stir constantly for 8minutes or until thickened.
Remove from heat.
Stir in cream and cook over low heat until well heated about 2 minutes.
Pour sauce over pasta and toss. Sprinkle with cheese.
Reviews
Most Helpful
Plenty of sauce, plenty of clams and plenty of flavor! I made it exactly as written and I doubled the recipe. You could easily serve this to guests. Thanx for a great recipe. I'll be making this again for sure.

We enjoyed this quick and easy meal! Thanks for posting.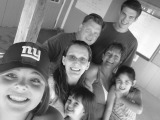 This was just the best ever. It was the perfect blend of flavors and lots of clams. The test to anything I make is wether my husband asks me to make it again and after his second bite he told me I could put this on his make again list real soon. Thanks for a make again meal for my oh so picky husband.