GaylaJ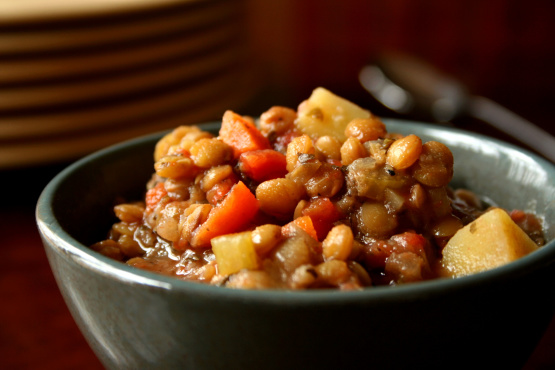 This is a yummy Lentil Stew made with mostly what is in your pantry. It is only four servings so you won't have tons left over. Simple but delicious!

This was really tasty and I'm not even a huge lentil fan! I'm vegetarian so I used water and vegetable bouillon cubes instead of chicken broth and used Italian seasoning instead of the parsley and basil. Next time I think I will use a little less lentils and more root vegetables.
Rinse and drain the dry lentils.
In a saucepan combine the lentils, chicken broth, tomatoes, potatoes, carrots, celery, parsley, basil, garlic, and pepper.
Simmer for 45-50 minutes untils lentils and vegetables are tender, stirring occasionally.