Easy Lemon Self Saucing Pudding
katew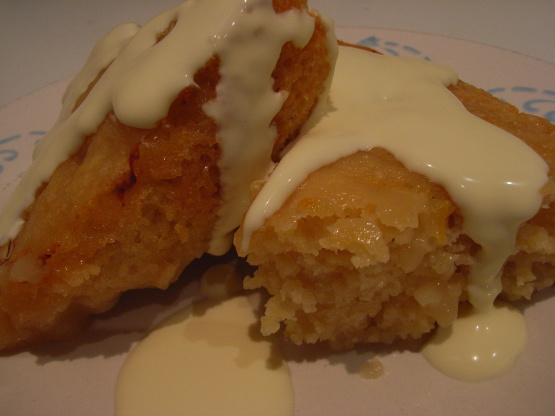 Been looking for the lemon delicious recipe I cooked many years ago but somewhere along lost the clipping (before ZAAR time) and this seems to come close to it though called a pudding (maybe searching in the wrong area) but it was good though sweeter than I remember (would need to work on the sugar content), certainly don't remember having the sprinkle sugar on top as per this recipe but I believe that what gives it its crispy top in this recipe. Serving suggestion was 4 but I think could be easily stretched to 6 served with cream and or icecream. i found that 1 lemon gave me the rind and juiced that but needed to juice a second lemon to get the full 1/2 cup (got a little more than that and added the lot).

Top Review by Debbwl
What a comforting pudding! This was Very easy and had a wonderful lemon flavor with a nice cake like top and a sauce bottom that bubbled up all around. I cut the recipe down to serve two and baked in two custard cups with no other changes being made. We enjoyed it as is but think a scoop of ice cream would be delightful also. Thanks so much for the post we are sure to be enjoying again.
Preheat oven to 180°C.
Grease a 4 to 6 cup casserole dish (deep sides).
Batter Base - sift flour and a pinch of salt together and then add sugar and grated lemon rind, mixing well together.
Stir in melted butter , vanilla and milk mix and stir until all flour mix is incorporated.
Pour into prepared casserole dish.
Sauce - Sprinkle the mixture with the sugar and lemon rind.
Combine the boiling water and lemon juice and carefully spoon some of over the batter and sugar topping, until fully covered and then pour the rest of the mix over the back of the spoon.
Bake for 30 to 40 minutes and let stand for 5 to 10 minutes before serving (very important to allow the sauce to thicken or otherwise will have runny liquid).
Serve with cream and or icecream.