Diana 2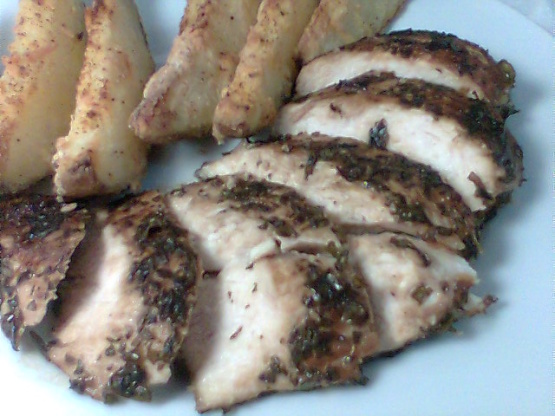 This is a super easy, 5-ingredient, very flavorful entree that was given to me by a friend. You can cook it all on the stove-top or finish it in the oven. And it can be gluten-free.

My husband LOVES this. I have to make it at least once a week now. It made me write my very first review. The only changes I've made is 1) Fresh basil with just a little dried, and 2) After I cook the chicken in the oil/juice/soy mixture, I reduce the sauce to thicken, then baste the chicken with the thick version before baking for 10 minutes. I also add fresh black pepper and chipotle powder, but that's me.
Sprinkle chicken, both sides, with basil (1 T per piece). It should be a liberal coating; you can even use more than what's listed.
Heat a fry pan on medium-high and add 1 T of the olive oil.
Mix remaining oil, lemon juice and soy sauce. Set aside.
Brown chicken in oil, both sides. Add liquid mix. Bring to a boil.
At this point you can either place chicken in an oven pan and bake at 375°F or just turn the stove down to a simmer; cook for 15-20 min for boneless and 40-45 min for bone-in chicken.