Fatneko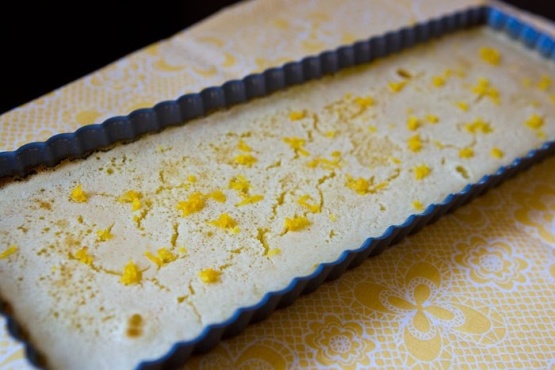 The ingredients are probably what you already have in your pantry. These lemon bars are pretty healthy - minimal on the flour and butter (except for the crust). It has a sweet cookie-like crust and the lemon on top seperates into two sweet, chewy layers. :] The top is kind of chewy and the bottom is like a sweet cookie so it reminds me of an ersatz cheesecake ;D

Very nice lemon bars, and definitely super-easy. I used the food processor to do the bottom crust: I put in almost-frozen SmartBalance margarine with the dry ingredients, and just pulsed it a few times until it was the texture of crumbs. I added a tiny bit of lemon zest to the crust, a trick I've learned for lemon desserts. A tiny bit of almond extract would be nice, perhaps, for flavour contrast. The top part was SOooo easy and delicious: again, I just threw everything into the Cuisinart (didn't even wash it in between). The top layer was a bit thin after baking; I would probably double the topping layer ingredients to give it a bit more heft - the crust is about the right size, so I wouldn't double that. I didn't have confectioners' sugar (here in Canada, it's called icing sugar), so I just left it off. My 15-year-old daughter called it the best lemon bars I have made - and I've tried quite a few! p.s. after years of using bottled lemon juice, I STRONGLY recommend fresh lemon juice in all lemon desserts. There's a huge difference!
Preheat oven to 375. Spray a 9x9 pan with nonstick spray and lightly flour.
Mix flour, salt, and sugar together. Add butter and mix (or 'cut') until it clumps. I just squish it with my hands until the butter is evenly distributed and looks like breadcrumbs. Pat this baby evenly on the pan and bake about 15 minutes until the top appears dry and the edges are lightly brown. Cool on wire rack and reduce heat to 350.
While you're waiting for crust, mix all the topping ingredients together (except the confectioner's sugar) and food processor/mix until well blended (it will be very liquid-like). Pour mixture on top of the prebaked crust and bake for about 15 - 17 minutes or until the top appears dry (it's normal if the center puffs up a bit). DON'T OVERCOOK, POR FAVOR!
Cool for an hour. Sprinkle with a bit of confectioner's sugar if you wish. Cut into 25 squares. MAKE SURE YOU SHARE! :].