Easy Lasagna With Cottage Cheese
lazyme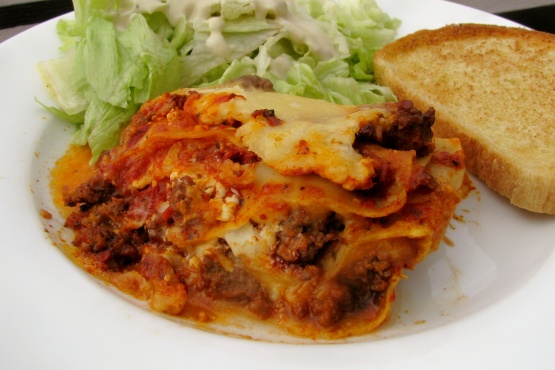 I love the simplicity of this recipe, especially considering how wonderful the results are! A few ingredients, a simple layering process, a short while in the oven, and you have a delightful meal that looks more difficult than it is!

3 1/2 stars. It was a bit bland using ground beef alone. I think a mixture of half Italian sausage and ground beef would work well. The type of pasta sauce makes a difference too. I used Prego Italian sausage and garlic meat sauce and it helped, but still could use a bit more spice. Next time I will add some Italian seasoning or even a little red pepper flakes. You could also add Parmesan cheese, basil and oregano to the cottage cheese for more flavor. This was a breeze to make and because of that I will make this again, but with some slight changes. The consistency was perfect, not too dry and not to loose.
Brown the ground beef.
Spread 1 cup of spaghetti sauce in the bottom of a 2-quart, oven-safe dish.
Pour the rest of the sauce in with the ground beef and cook until warm.
Layer 2 noodles, 1/3 of the meat, 3/4 cup of cottage cheese, 1/2 cup mozzarella; repeat. For the last layer, use the final two noodles, meat, mozzarella, and parmesan cheese on top.
Cover baking dish with foil and bake at 350 for 1 hour.